Receive the Support You Need to Manifest Your Highest Vision for More Clients, More $$$, and More of the Biz and Life You LOVE!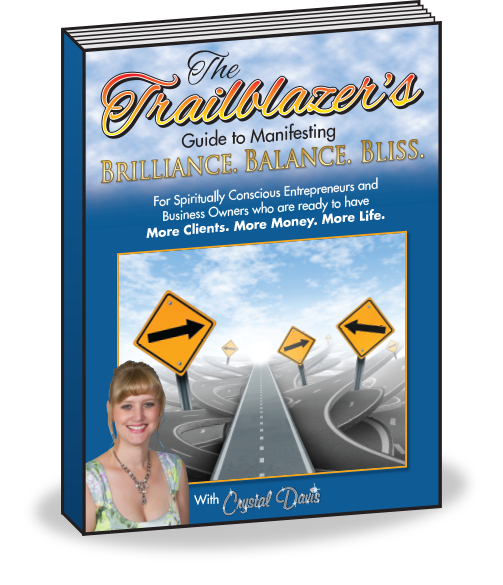 Receive Your 3 FREE Gifts from Crystal Davis
1. The Trailblazer's Guide to Manifesting Brilliance, Balance and Bliss E-Book
You are ready to become the Crystal Clear You on the leading edge of thought...to be your best and achieve health, wealth, and happiness. The Trailblazer's Guide to Manifesting Brilliance, Balance, and Bliss is filled with the strategies and tips to help you get on your divine path, live as the authentic you and manifest the business and life that you love. In this downloadable e-book, Crystal shares with you the 6 necessary phases for manifesting what you want in alignment with your divine path based on the Universal Laws of Success. The special features of this e-book includes Crystal's Daily Organizer with Check-List for centering yourself and organizing your days around your soul's highest vision.
2. Free "Stand Out and Shine Magnetic Marketing Success Blueprint" with companion Audio MP3 (70 Minutes) -- "4 Magnetic Marketing Strategies that will Easily Attract Your Ideal and Perfect Clients While Building the Business that Sets You Financially Free"!!
3. The Crystal Clear You Ezine
You will receive my bi-monthly ezine delivered directly to your inbox. The Crystal Clear Reflections Ezine gives you advice and tips to help you express yourself authentically. . . so that you can have the breakthrough to the business and the life that you LOVE in record time!!
You'll learn:
BONUS: The opportunity to apply for a complimentary Crystal Clear You Strategy Session
For a limited time, Crystal is offering the opportunity to apply for a FREE 30 Minute Activate Your Vision Strategy Session! With Crystal, you will explore what your dreams are and your biggest challenges in reaching your desired results. We have a limited number of appointments available and request that only applicants who are serious about dramatically transforming their business and their lives apply. To apply for your complimentary session with Crystal, enter your name and email address below in the form below and we will send you the next steps along with your FREE gifts!
Don't delay; register below to receive your gifts and become The Crystal Clear You with the business and the life that you LOVE!